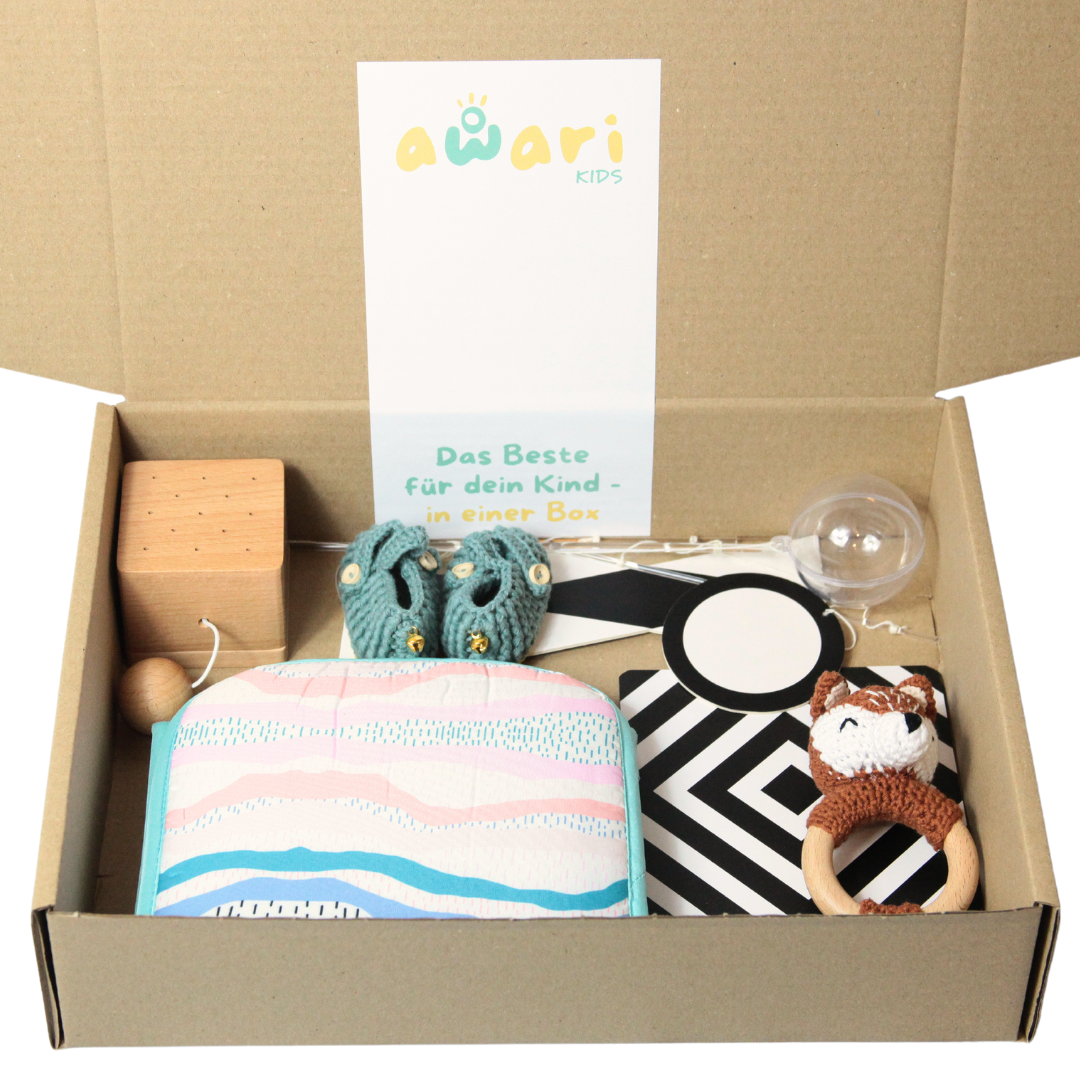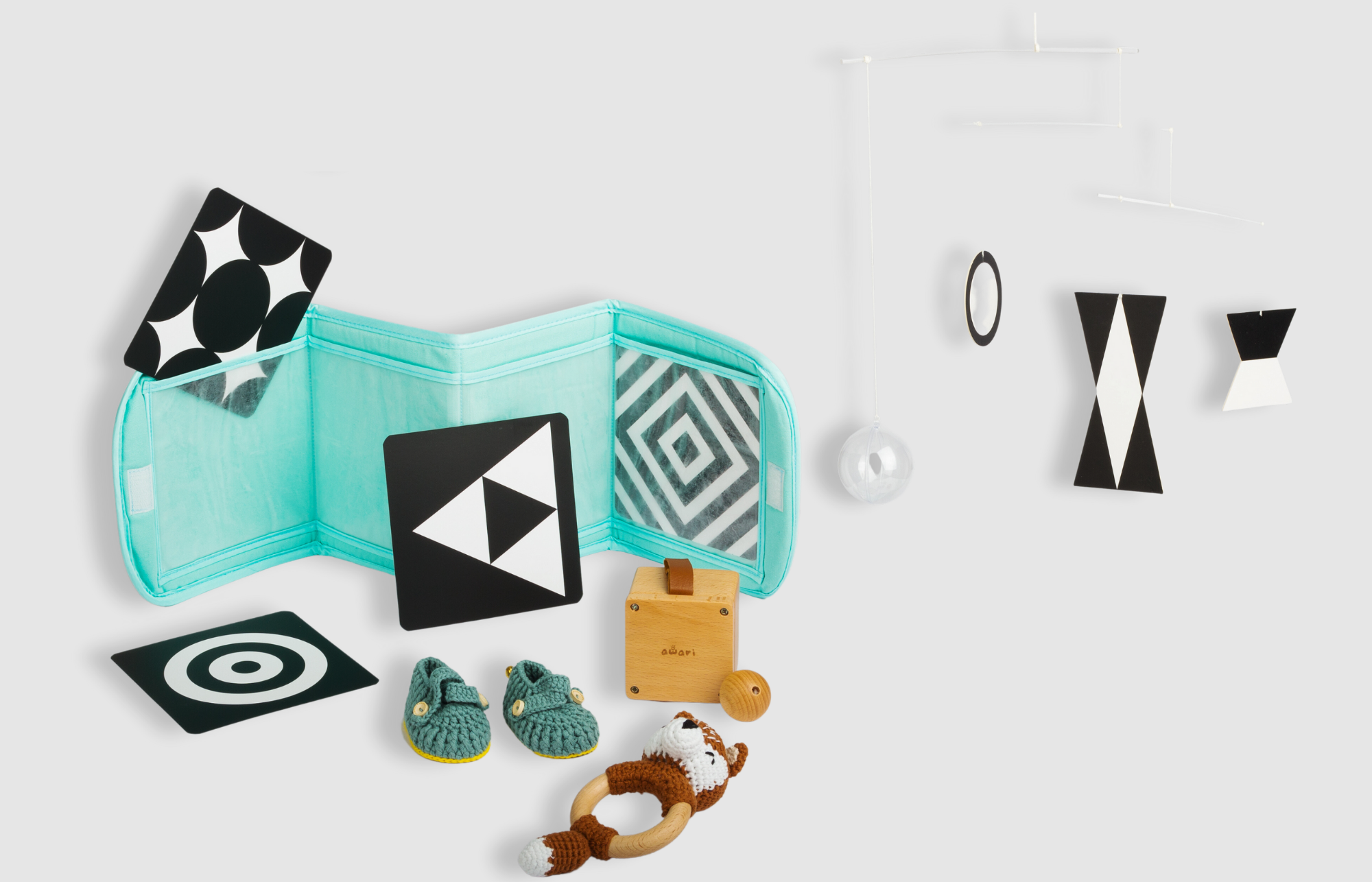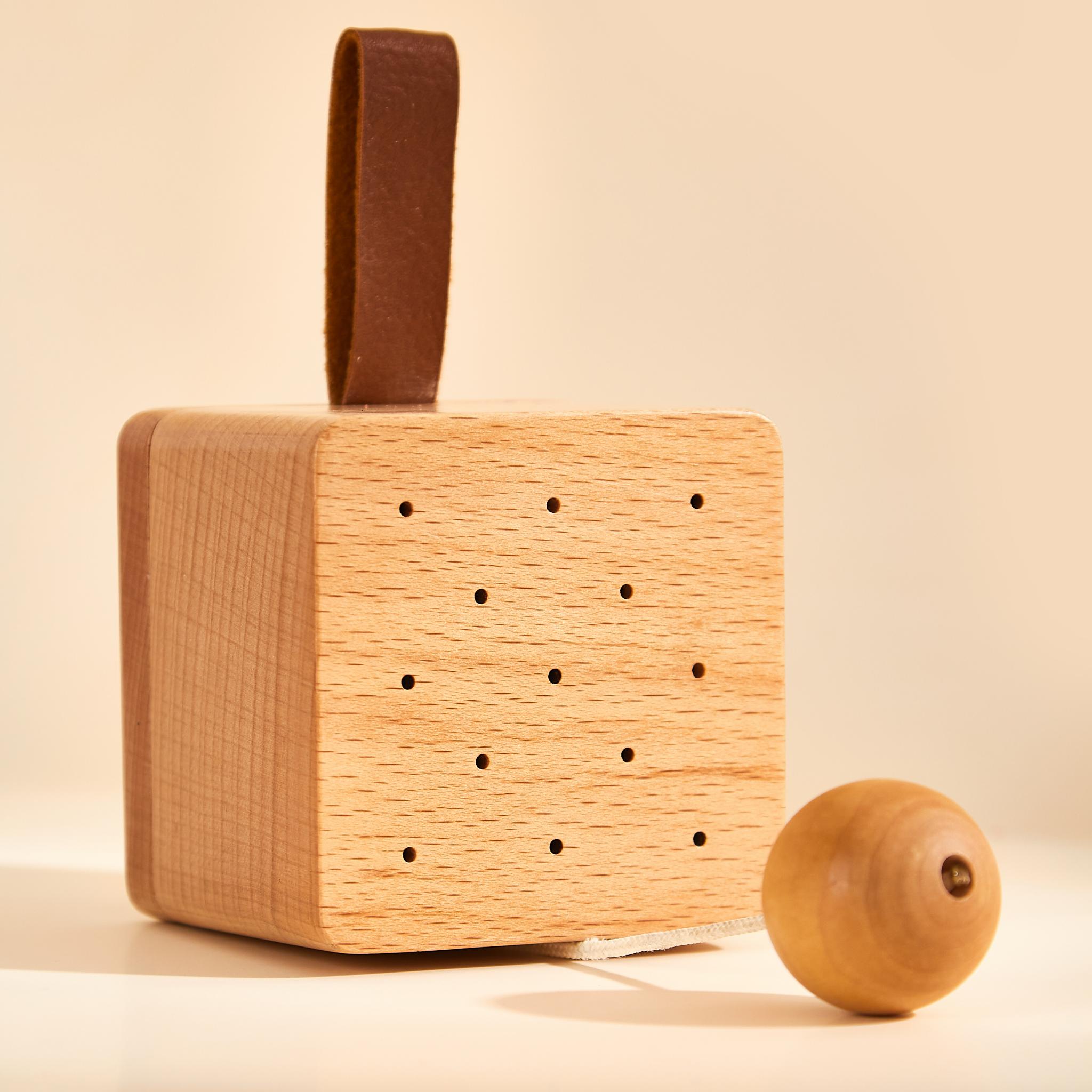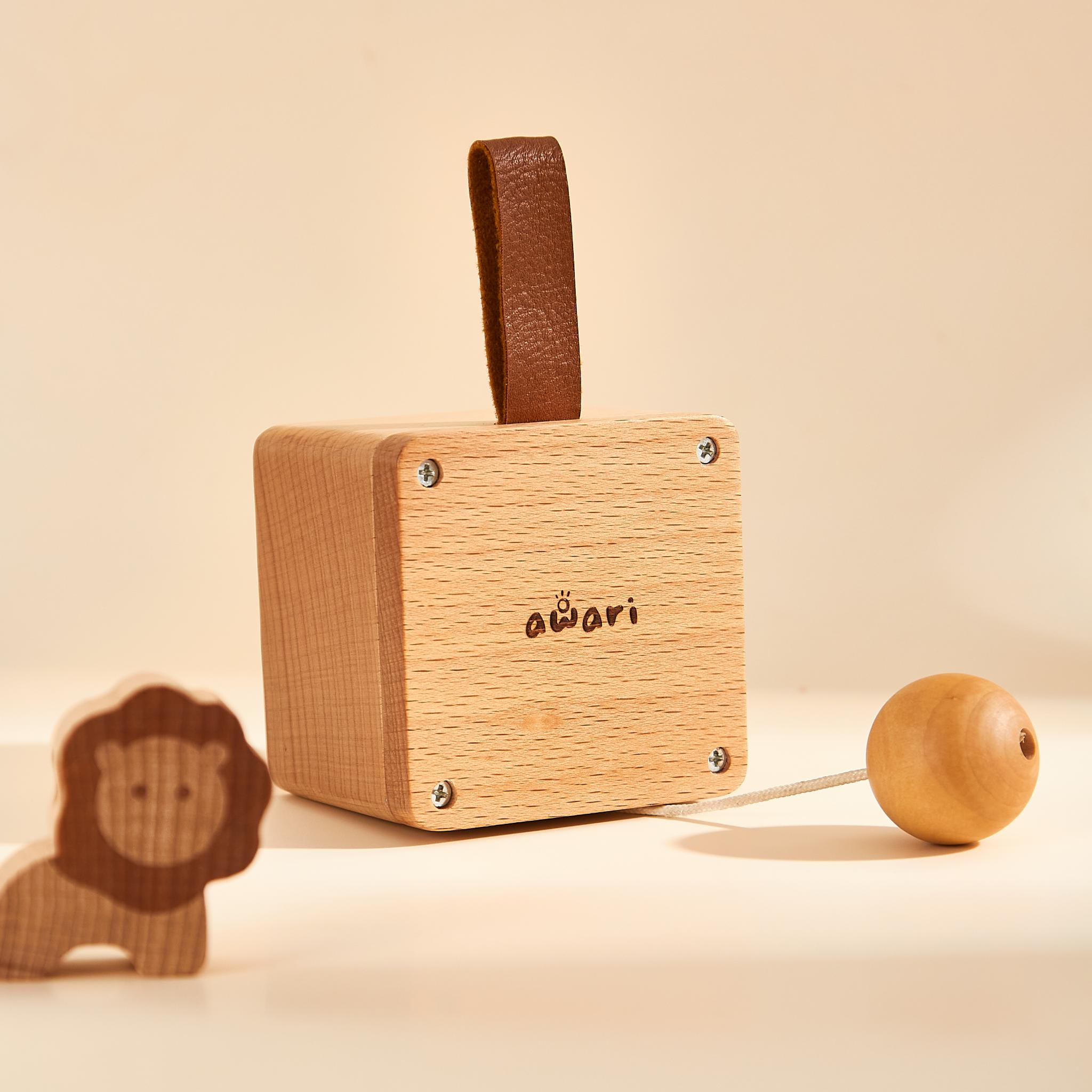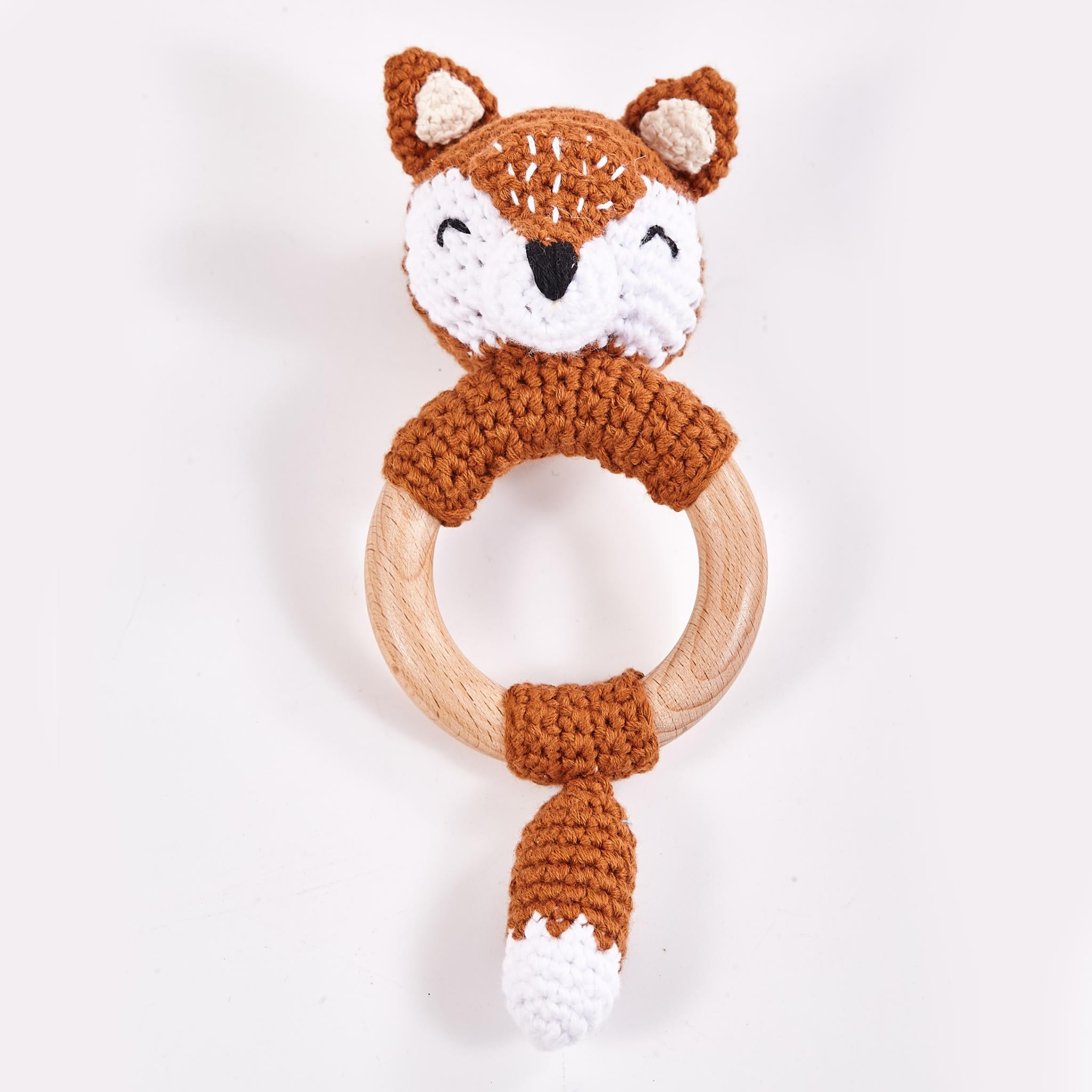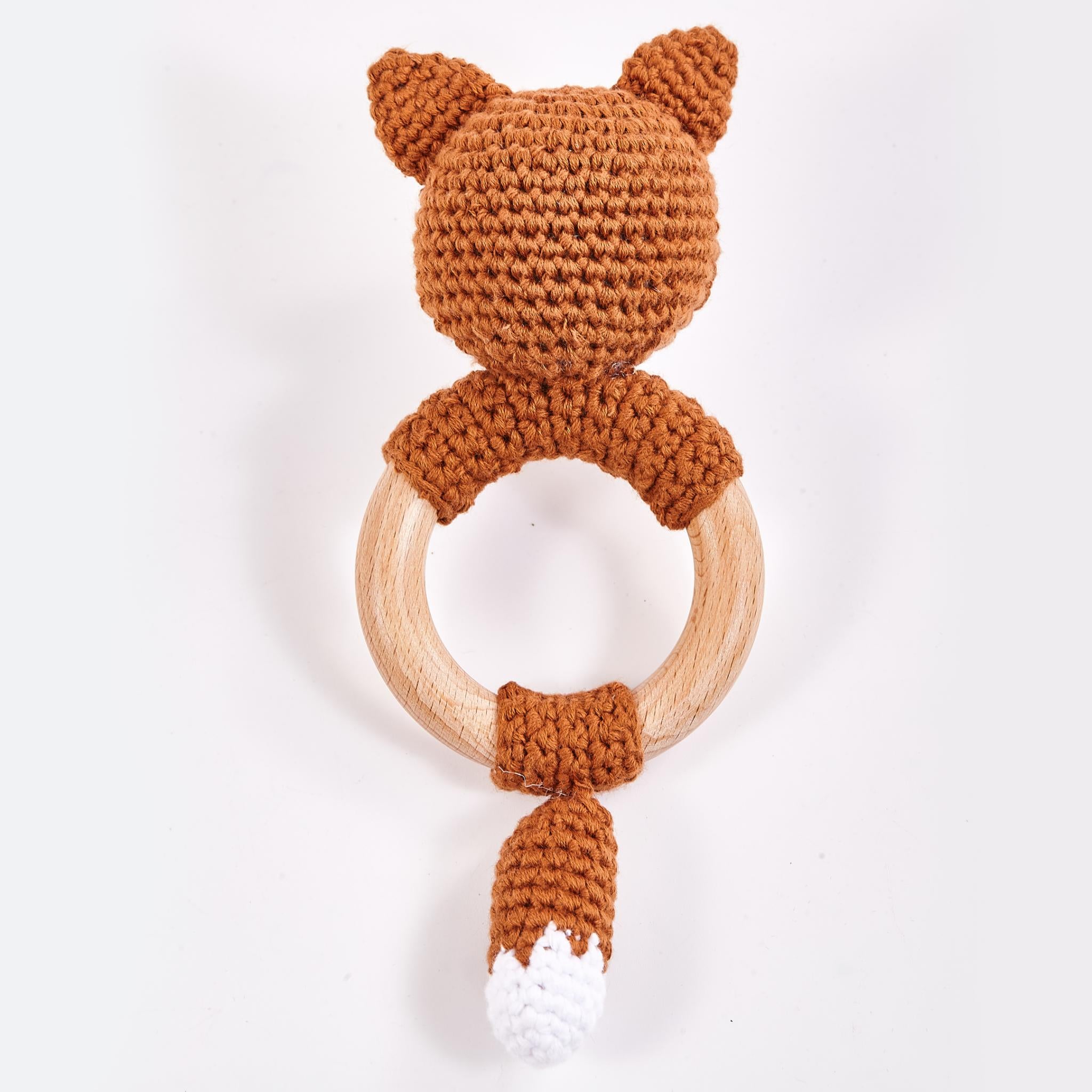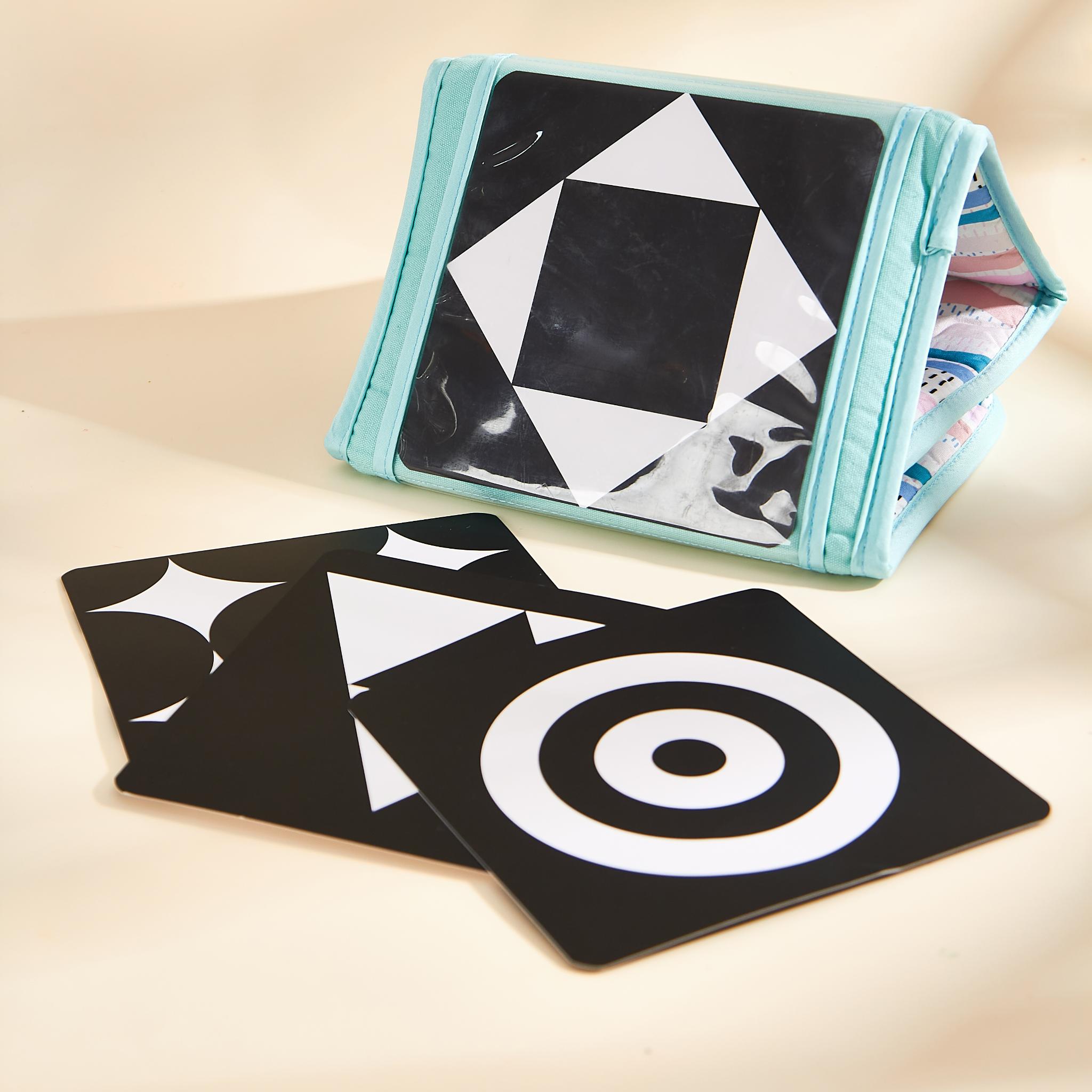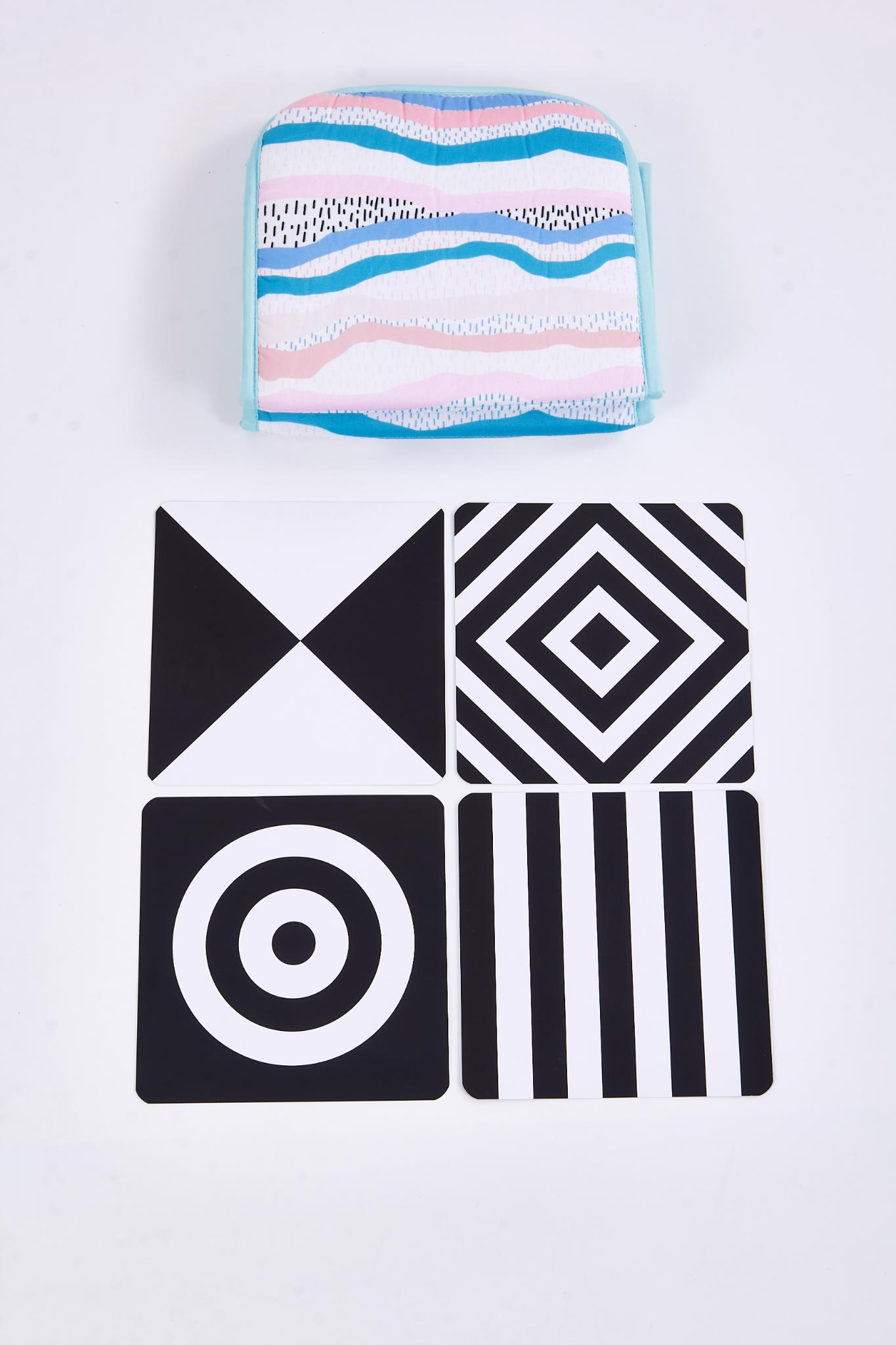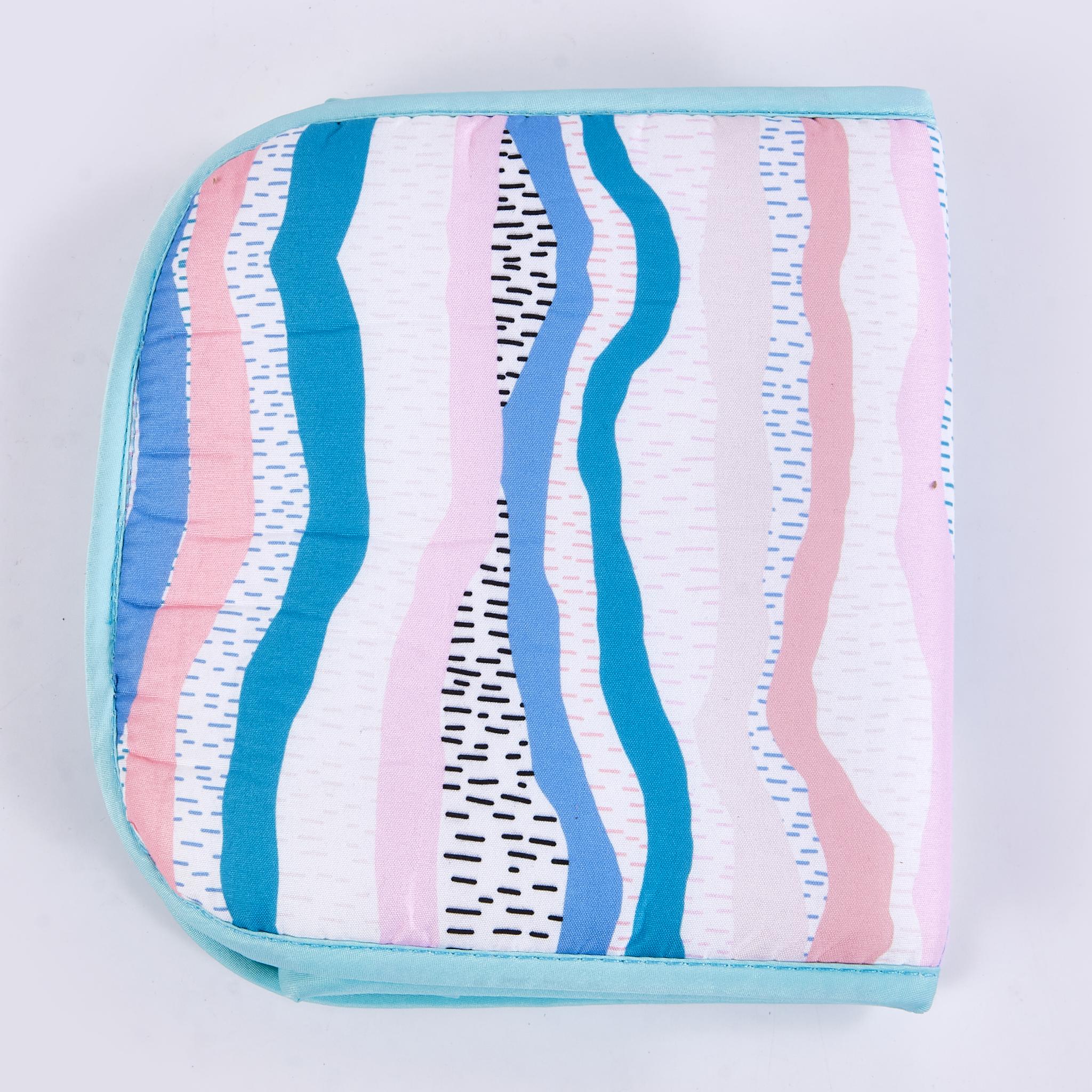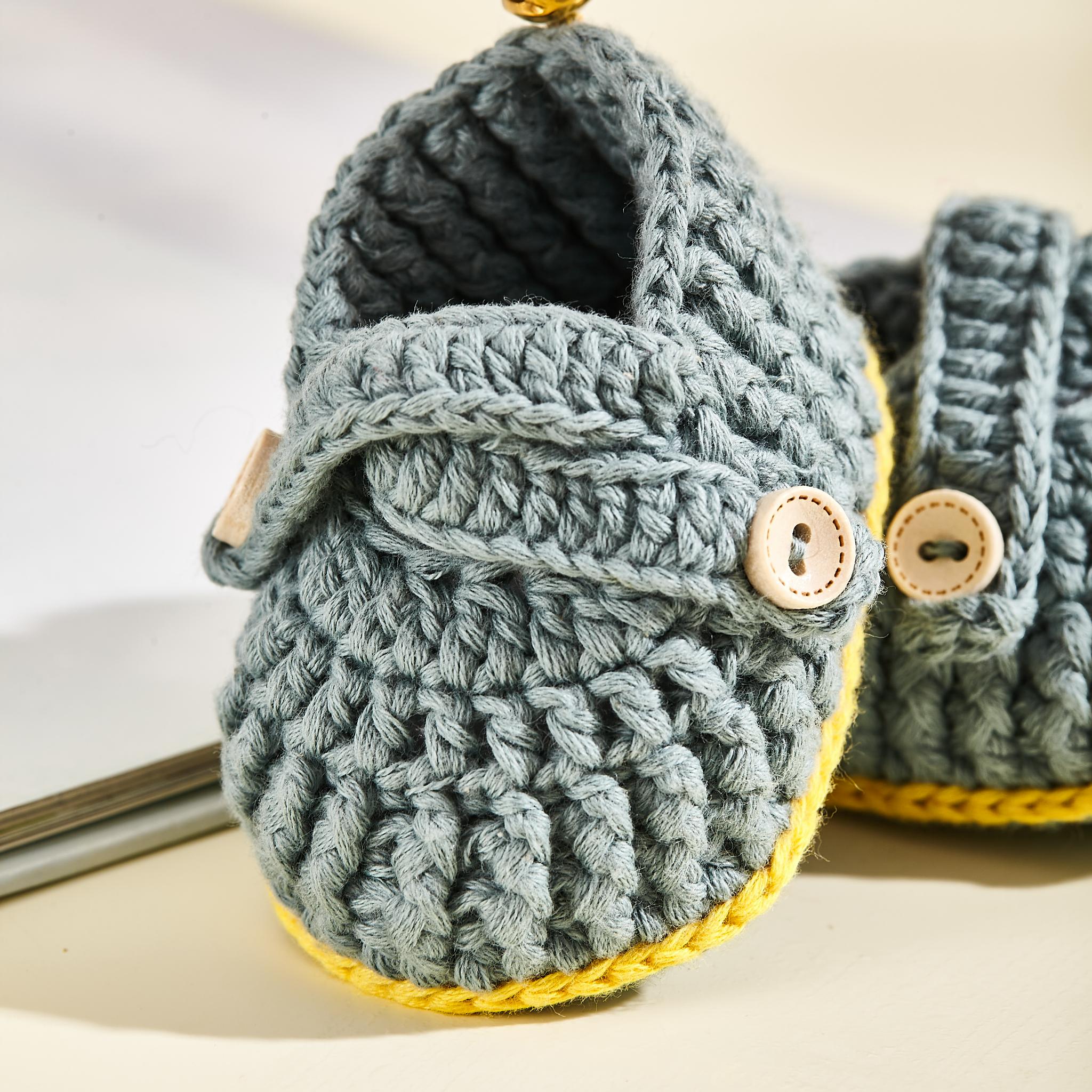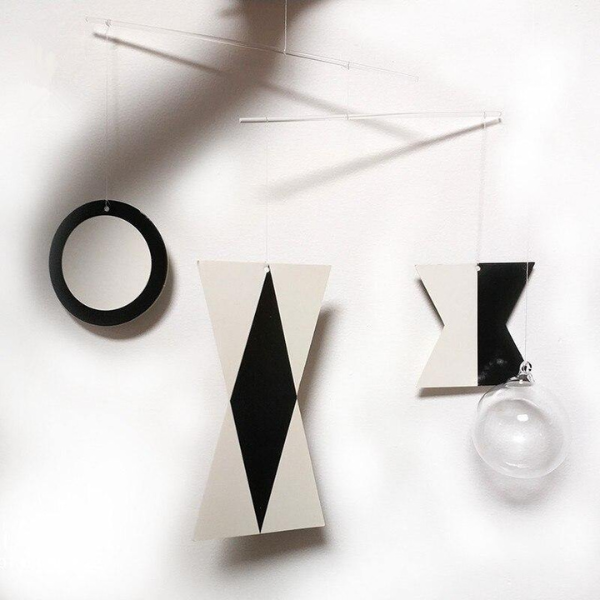 AwariKids Box Liv: Month 1 and 2


The AwariKids Box LIV was developed by experts specifically for the first two months of life. This includes Montessori toys and educationally valuable toys

Music box:
The music box made of wood and vegan leather is ideal for accompanying the falling asleep process melodically. It can also help your newborn calm down and relax.
Grip ring: The rattle is made from FSC-certified wood and organic cotton and is the perfect companion for your child in the first few months.

Contrast maps: The black and white cards encourage your baby's eyesight without overwhelming it.
Card holder: With the help of the card holder you can place the contrast cards within your baby's sight.
Montessori Munari Mobile: The Munari Mobile belongs to the Montessori Visual Mobile series. This classic black and white mobile was designed specifically for newborns by Italian artist Bruno Munari.
Each Montessori box is ideally tailored to the respective age and stage of development. The AWARIKIDS boxes are also available by subscription, so you can easily receive an AWARIKIDS box every two months in your first year of life and every four months in your second year of life. This saves you a long time researching for the right toys for your baby.
The AWARIKIDS Box LIV is also ideal as a gift for newborns or as a christening gift.
1. Create new connections in the brain
2. New environment to process
3. Explore high-contrast images
4. Encourage visual and auditory perception
Your newborn has to find its way around the world first. Even if your baby is still sensitive to environmental stimuli (light, noise), it is already beginning to perceive its environment. The box contains toys and products that are tailored to the first few weeks of life and make your time getting to know each other even better. For example, a music box that gently accompanies your child to sleep, contrast cards with a card holder that already help your baby to establish neural connections and much more. Everything your newborn needs at the moment, in addition to lots of love and cuddles, of course.
Share
30 days return policy
Your satisfaction is our top priority! Buy with confidence as we offer a hassle-free 30-day return policy. You can easily return or exchange any product if it doesn't meet your expectations.
Free advice if needed
Our dedicated team of early childhood educators is here to help you through your parenting journey. We offer free consulting services to answer your questions and provide you with the support you need. Whether you're looking for advice on choosing the right Montessori materials or need personalized recommendations, our experts are just a message away.