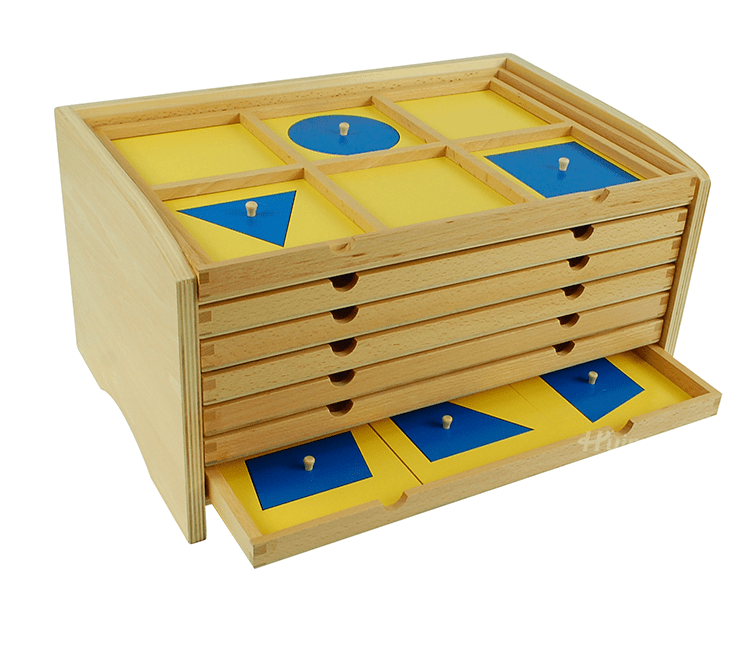 Free shipping | within Germany from €49,99
quantity discount | Buy 2 get 10% discount!! / Buy 3 get 15% discount!!
In this geometric chest of drawers are the various geometric figures. The chest of drawers consists of six drawers, each containing six different geometric figures, rectilinear figures, curvilinear figures and circles. Your child can use the chest of drawers to discover different geometric figures. By running your fingers around or by copying the figures, you can memorize the different shapes. One hand holds the geometric figure with the three-point grip, while the other hand moves around the figure with the index and middle fingers, thus discovering the different properties of the geometric figure. As a next step, your child can copy the geometric figures on a piece of paper. And let your creativity run free.
The geometric chest of drawers should not be missing from any painting table.

Product Information:

Dimensions; 54,5cm x 38cm x 31,5cm
Age recommendation: from three years
The geometric dresser is so versatile and encourages so many areas of development. Depending on how your child uses the geometric figures, eye-hand coordination is encouraged. The sense of sight will be refined by inserting the geometric figures in the inserts provided, your child's vocabulary will be expanded by naming the different geometric figures. Your child's aesthetic sense is also developed (e.g. by placing a rectangle and a trapezoid on top of each other, you get a house).
Your child's creativity is also encouraged.
Share
30 days return policy
Your satisfaction is our top priority! Buy with confidence as we offer a hassle-free 30-day return policy. You can easily return or exchange any product if it doesn't meet your expectations.
Free advice if needed
Our dedicated team of early childhood educators is here to help you through your parenting journey. We offer free consulting services to answer your questions and provide you with the support you need. Whether you're looking for advice on choosing the right Montessori materials or need personalized recommendations, our experts are just a message away.