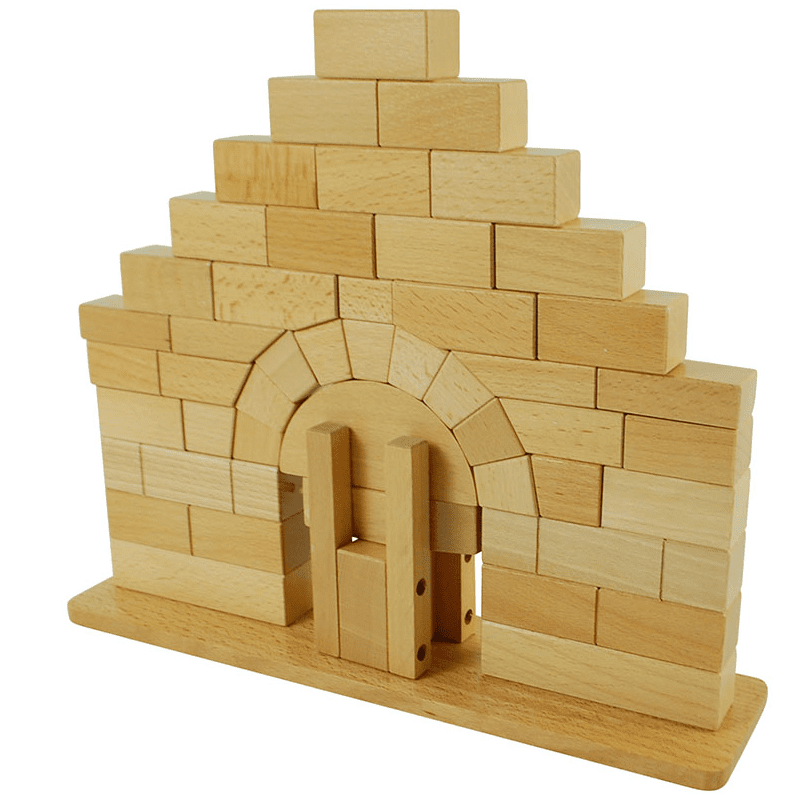 Free shipping | within Germany from €49,99
quantity discount | Buy 2 get 10% discount!! / Buy 3 get 15% discount!!
The Roman bridge consists of a support, a semicircle, a wedge, building blocks and the basic structure of the bridge/base board. The Roman Bridge is the only Montessori material that deals with architecture and statics.
Admittedly, it looks very complicated at first, but it's not at all and children love this Montessori exercise.
First, the building blocks are sorted according to the different shapes.
Then the support bracket is assembled by placing the support bracket on the table with the block of wood down and the four pillars up. The semicircle is placed in the support with the curve facing up. The wedge is pushed between the semicircle and the support.
To make assembly easier and for better orientation, use a picture of the bridge at the beginning. It is best to place it next to the base board.
Several stones are already firmly attached to each side of the base board. Starting from these stones, the rows are now completed. The easiest way to do this is to first build the archway over the support and fill in the gaps with the appropriate stones. The archway itself consists of trapezoidal wooden blocks. The rectangular stones are built on the trapezoidal wooden stones.
When all stones are installed, the support is removed. To do this, the wedge is carefully pulled out between the semicircle and the support. Then the support with the semicircle can be removed. The Roman bridge is correctly constructed if no stone falls after removing the support. You will see, your child will love it!

Product Information:
Material: 100% wood
Dimensions: 36 cm x 23 cm x 12 cm
Age recommendation: from four years
This great Montessori material promotes your child's fine motor skills. Your child will also make its first static experiences with the construction of the Roman Bridge. The structure will promote concentration and endurance, as well as the aesthetic perception of your child. Once the bridge is set up and your child pulls out the support, this will increase your child's confidence and self-efficacy.

Share
30 days return policy
Your satisfaction is our top priority! Buy with confidence as we offer a hassle-free 30-day return policy. You can easily return or exchange any product if it doesn't meet your expectations.
Free advice if needed
Our dedicated team of early childhood educators is here to help you through your parenting journey. We offer free consulting services to answer your questions and provide you with the support you need. Whether you're looking for advice on choosing the right Montessori materials or need personalized recommendations, our experts are just a message away.